Solar Power for Electricity
How it works and saves the environment.
How much does solar power electricity cost and how much will solar energy electricity save me?
More questions:
Who are the solar system installers?
Solar panel brands, how good are the warranties?
What are the risks and rewards, is it a good investment (honest answer)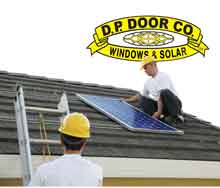 Prices have come down on Solar Energy Electricity.
You can now get started with a completely installed solar power electricity system From DP Energy Store Inc. for well under the original price of $20,000.
DP Energy Store will install a complete solar power system for
for only $4900*
Call 909 625-6000 for more information.
*price is after tax credits and rebates.
Complete 1400 Watt system with 20 year manufactures limited warranty on solar electric panels.