Sliding glass patio doors are more then just a doorway to the outside! Make a statement with the best patio door for your house.
DP Doors not only has a location near you but our large comfortable showroom has the best displays of patio doors in the IE.
Where else would you find patio doors up to 10 foot on display in such a nice setting.
Make your house your home with Milgard Patio doors installed by DP Doors of Rancho Cucamonga.
Serving Upland, Claremont, Alta Loma and all surrounding areas.
Our staff has an average of over 30 years of experience and we are a Milgard certified dealer.
Milgard Sliding Glass Door. 10 ft 4 door.
Milgard 4 door sliding glass patio door. 10ft. Also available in 12ft, 16ft and custom sizes.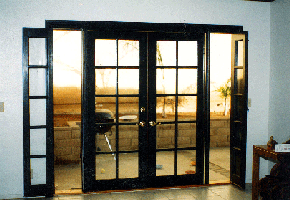 This is a great way to replace a sliding glass patio door. Shown here is a 8' french door, two 30" 10 lite french doors and two 12" opening sidelites. The sidelites have screens on the exterior; this is a very convenient and a attractive way to get ventilation with out a screen door over the french doors.
This is a Milgard vinyl french door with Milgard vinyl windows interlarded into the system. Every thing matches and will last for decades. Using Migard Vinyl Swinging french doors allows us to use the same girds as the windows.
10 ft Milgard Essence swinging french doors with sidelites
Two one lite french with leaded glass side lights.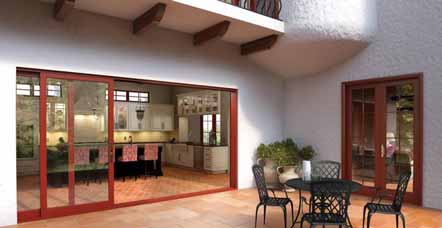 Milgard Moving Wall sliding wood patio doors.
Milgard Tuscany Vinyl double sliding doors for your home.
Large one light Milgard Ultra patio doors.
4/24/2019
This company is outstanding and very professional.
Terry, Shirley, and all of the crew did an amazing job on our doors and helping us with everything!
We had 4 exterior doors done and the quality and installation was excellent.
They are very organized, kind, and have a lot of integrity. M.R.P Upland, CA
"Hooray for a locally owned door business as they have the best choices, service and installation ever."
Sandy M. 12/18/2018, Rancho Cucamonga


"Excellent Service!! Terry is unbelievable in his field.  I have found a new door place for good. "
James B.; 10/1/2018, Upland


"They did a great job and more importantly cleaned up after themselves. It's refreshing to have workers come into your home and respect it.
Thank you DP Doors for a job well done!!"
Lois S. Rancho Cucamonga

DOORS AND WINDOWS INSTALLED in HOMES pictures
Doors
Windows
Locations
////
Doors/
Entry doors
Patio doors
French doors
Security doors
Laundry Out
Garage out
Fire door
Interior doors
Wardrobe doors
////
////
Windows/
Vinyl
Fiberglass
Specializing in Doors & Windows for homes:
With over 30 years of being in business
"you get more with DP Door."