Milgard Sliding Glass Door. 10 ft 4 door.
Milgard 4 door sliding glass patio door. 10ft. Also available in 12ft, 16ft and custom sizes.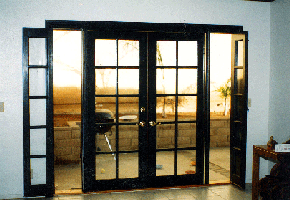 This is a great way to replace a sliding glass patio door. Shown here is a 8' french door, two 30" 10 lite french doors and two 12" opening sidelites. The sidelites have screens on the exterior; this is a very convenient and a attractive way to get ventilation with out a screen door over the french doors.
This is a vinyl french door with vinyl windows interlarded into the system. Every thing matches and will last for decades. Using Vinyl Swinging french doors allows us to use the same girds as the windows.
10 ft wood clad swinging french doors with sidelites
Two one lite french with leaded glass side lights.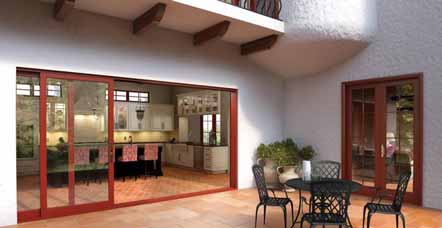 Moving wall sliding wood patio doors.
Vinyl double sliding doors for your home.
Large one light patio doors dual pane wood.