Milgard Essence Wood Windows. In the past Pella, Marvin and Anderson have been used when a customer wanted a wood window with modern energy efficiency and durability. Now Milgard has made a jump to first place for the most advance wood window. When it comes to an authentic look with powerful energy efficiency, Milgard is the only window to do it with a authentic painted wood exterior appearance; no seams, no shiny vinyl, no aluminum cladding, just the traditional look of painted wood! It sounds simple, a wood window that looks like a wood window, but actual it is the result of a 13 Million dollar investment from Milgard to produce a powder coat system for the exterior of their wood window that is much more durable then regular paint.
Wood Window With Powder Coat Fiberglass Exterior Lifetime Finish:
Powder coatings emit zero or near zero volatile organic compounds (VOC's)
Powder coatings can produce much thicker coatings than conventional liquid coatings without running or sagging.
Powder coating overspray can be recycled and thus it is possible to achieve nearly 100% use of the coating.
Powder coating production lines produce less hazardous waste than conventional liquid coatings.
The end result is a wood window that is guaranteed for life.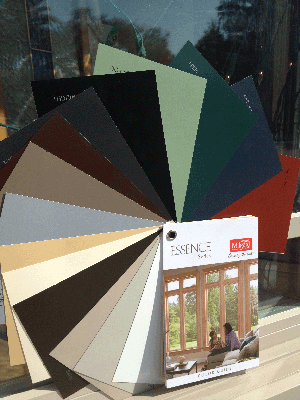 Handle Sets for Milgard Essence French Doors