When you go solar you with D.P. Door we will help you to enroll in the utility companies Net Energy Metering (NEM) program. This allows you to get the most out of solar.
My customers are in the SCE area so I will use Edison's info.
What is NEM? NEM is a service that allows you to bank the power you make until you need it.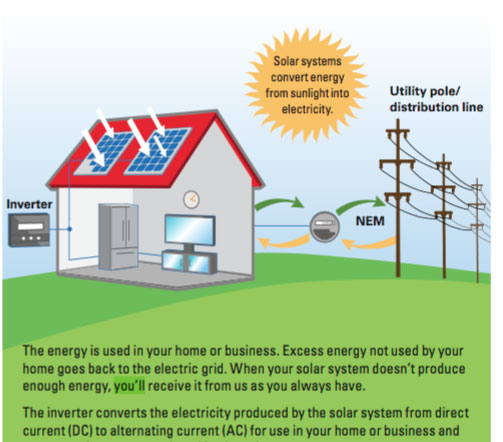 Edison had become more pro active about getting customers to conserver ( or produce solar electricity) during peak usage times (10am to 8pm especially 12pm to 6pm)
They are charging more for high use of their electricity during that time.
Unfortunately after 3pm, as the sun gets lower in the sky, so does the solar output.
This new Time of Use NEM SCE rate plan is going though changes; please contact David at DP Door or Edison about current rate planes.
This chart is of TOU-D-T, there are other plans that vary the peak times.
Our solar photovoltaic systems are designed with solar panels that maximize power all day and extra emphasis on afternoon to 6 PM.
Germany is the world leader in solar, I was trained from German solar engineering text books. They have 5 times as many solar panels on roof tops as we do.
The German engineered Q-cell panels we use are one of the most popular in the leading solar continuers of Europe and number one in Japan.
The Q cell solar panels have more power per watt. That may sound funny, because a watt is a watt. But there are STC watts and PTC watts. The PTC are tested in real world conditions, not in a 75 degree Fahrenheit lab.
As the panels get hotter there is more resistance and the power suffers. The Q-cell only loses 10% while others , even ones that cost a lot more, lose 20%.
Another thing that makes these a great choice is they work well in very low light. At only 200 lumens they still produce power. Not a lot of power cause that is relay dim, but more then most other companies. This means at 5pm to 6pm when other solar panels are shutting down these will still be pulling in power. Since this is the Souther California Edison (SCE) peak Time of Use (TOU) you could save or make almost twice as much.
The new Net Energy Metering 2.0 (NEM 2.0) vs NEM 1.0 has only TOU billing. Where the old SCE NEM 1.0 had TOU or tiered domestic.
Now time of use is very important, but even more important is time of generation.
You got to make it to sell it at the higher rate. So I like panels and inverters that are going to keep putting out all day until the sun is gone not just low in the horizon.
So how many panels did you get?
It's not how many panels it is how many watts.
30- 200 watt panels is not as good as 20- 330 watt panels. Watts is what it is all about.
Actually to go a step further AC watts to your house is what pay off your electric bill.
And now with Net Energy Metering 2.0 (NEM 2.0) the time of day that the energy is produced and consumed (time of use, [TOU]) is also very important.
MODUELS (SOLAR PANELS)
The most common solar panels come in one of two sizes 60 cell and 72 cell. The cells are made of silicon the same material as computer chips. You've heard of "Silicon Valley" in San Francisco where the computer chips are made.
Silicon comes from a laboratory grown ingot of crystals that are sliced into thin wafers.
For solar cells Silicon converts sunlight into electricity. It will effectively do this for decades. It is not a proses like water into steam it is more like vibrations making music. The sun makes it vibrate on a molecular level and that agitation creates a current.
Simply lay a wire across it and you can use that electricity for what ever you want.
The current is direct current (DC) like batteries use but your house is Alternating Current (AC) because it is cheaper to run wires for AC. DC needs bigger thicker and more expensive wire.
The DC goes through a thick wire to the Inverter. The inverter changes the DC to AC so you can use it in your house.
The German engineered Hanwha Q-cell solar panels article on popularity in Europe and Japan.
String Inverter vs micro inverters;

Inverters are "the brains of the system":
Many companies use micro-inverters. They save time in the installation but I don't suggest them for the long haul.
The inverter is the only complaint that is not likely to last 20 years.
At some time they will need to be replaced. The warranties do not cover the labor, the labor for over micro inverters (under your solar panels on your roof) would be outrages.
Instead of several micro inverters on your roof, I use one high quality Inverter. It will be installed in a location with easy access. Usually near your service panel.
In 12 years It may need replacing, when it is on the wall it is very simple to do.
No one wants to have to replace things they bought but inverters are like computers, they keep getting better and less expensive. The technology will advanced so much in 12 years the new inverter will have the capability of produce even more power.
A array of solar panels pumps out a lot of power. This means the inverter has to work hard converting thousands of watts of power to AC. Some power is loss because the inverter adds some resistance to the flow of the electricity.
Every year or so the technology of the inverters improves and now a high quality inverter like the SolarEdge inverters have less resistance.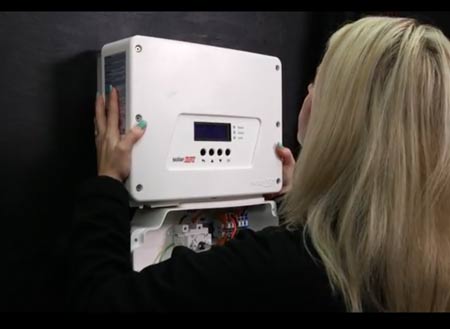 If you want one inverter in a easy to service location and a record breaking efficiency use the SolarEdge HD series.
A string inverter is about the size of a large shoe box. Just one inverter in a convenient location will handle most residential solar arrays.
In 12 years but hopefully longer the inverter could become less efficient and need replacing. This is good and bad, it is bad because you have to replace it. It is good because like computers, every year they are improving inverters and a decade from now the will have even less resistance and will be able to do things to harmonize the solar panels to your house better then they do now. And like computers the prices are dropping significantly.
What use to cost $8000 now cost $1500. The newer inverters pump more electrical power into your home even on cloudy days and when the sun is lower in the sky ( like after 3:30 PM). In a decade they will cost relatively less and will be even more efficient.
So replacing it in 12 years can be a good thing. The labor charge to replace one of these inverters is a service call plus an hourly rate. The string inverter is usually installed in a convenient location. If it does wear out it is simple to unhook the old and use the same wires to hook up the new.
Now lets say you decided to use micro inverters. Micro inverters save the solar contractor money when they first install your solar. The initial lower cost can cost thousands later.
The micro inverters are attached to the underside of each and every solar panel on your roof. For one thing it gets very hot under a solar cell. It generates heat when working and its out in the sun which is solar heating it.
Inverters do not last as long in this type of environment. Recently the manufactures are extending their warranty to 20 years and will give you a new or used one of the same age.
The problem is the labor. Each time a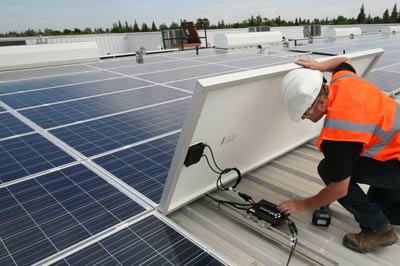 micro inverter goes out, you have to pay an electrician to go on your roof and remove the solar panel that has the bad inverter.
Hopefully he has identified the correct panel to remove and he can remove it with out removing too many other panels to get to it.
Remember the clock is ticking, the long he or she works the more you pay.
Also there is the service call charge. The electrician does not work for free, if he or she did they couldn't feed their family. The time to schedule your appointment, get the part to do the job, drive to the job and talk to you before setting up his ladder to climb on your roof is part of the service call charge.
Hopefully he or she won't damage your roof each time he goes up to replace a micro inverter.
If you have 30 solar panels you would have 30 micro inverters. The potential for you putting your electrician's kids through collage is something to think about.
WARRANTIES ON LABOR; Just because your sales person thinks his or her company will cover labor doesn't mean they will.
If a sales person says "don't worry we have a 20 year warranty", please read the fine print. Where does it say that if a micro inviter goes bad that they will pay for the labor?
Even if the sales person says they do, or hand writes it on the proposal, he may have been given bad information from a over zealous sales manager. Please get a copy of the actual contract and look for the word "labor".
if they say the manufacture covers labor, please do your due diligence You can download the manufactories's warranty and look for the "labor" word.
The sign contract supersedes promises from the sales person.
Your monthly bill from Edison.
"SCE will read your meter once a month, recording the "net" amount of energy either consumed or generated over the entire month. If, in a given month, your system generates more electricity than you consumed, the excess energy will be credited to your account at the same rate that you would have been charged had you purchased that electricity from SCE."

You would still have fees to pay (about $17 to $25 a month to Edison) .
Souther California Edison SCE is starting a new net energy metering program.
SCE NEM 2.0
There are many of the features of the old NEM 1.0 but Solar Electricity users will need to use "Time of Use" pricing and will not have the option for the traditional tier pricing structure.
Also there are some fees that NEM 1.0 did not have.
If your solar installer knows how to build a system to maximize your solar electricity production in the right way, you can use Time Of Use (TOU) to your advantage.
I have painstakingly written a computer program to run scenarios of solar panel installation and inverter ranges to maximise our systems for the new NEM 2.0 TOU from SCE.
There are 8 price levels, all base on amount of electricity used during different times in different seasons.
With a large systems, with a pool pump and or water features, there can be hundreds of dollars a month difference.
In a nutshell the idea is to BUY LOW & SELL HIGH. You could produce solar and be credited by SCE at a peak rate. Then use more power then you produce at the lower rate.
This is similar to buying a larger and more expensive solar electric system, (you get more electricity to use) only with out the cost of buying more solar panels. It is done with knowledge not more materials.
If not done correctly it could have he opposite effect and you would be wasting electrical power and money.
Link to SCE NEM 2.0 Edison Net Energy Metering